The Twelfths - I Pesci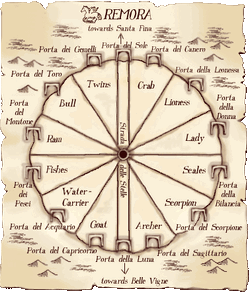 Motto
"Nessuno sa dove mi prenda" - No-one knows where to have me
Square
Piazza del Palazzo Vecchio
Fountain
Fonte del Arcobaleno
Patron Saint
Saint Antony of Padavia
(Feast Day - 13th June)
The Fishes are one of the Twelve Contrade of Remora. They are one of the water symbols of the Zodiac, so is allied with the Scorpion and the Crab. They are the enemy of the Ram[1]. The Fishes' section is located in the western area of Remora.
The Fishes won the Stellata in 1449[2].
People of the Fishes
Edit
Martino, current horsemaster
"Il Re" ('the king'), current jockey
Notes and References
Edit
All the information from the template is from here
Ad blocker interference detected!
Wikia is a free-to-use site that makes money from advertising. We have a modified experience for viewers using ad blockers

Wikia is not accessible if you've made further modifications. Remove the custom ad blocker rule(s) and the page will load as expected.