The Lady - La Donna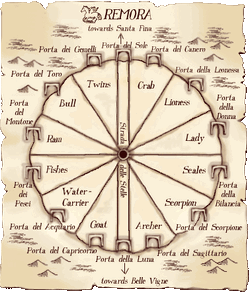 Motto
"I miei soggetti sono molti" - My subjects are many
Main Street
Via delle Donna
Square
Piazza delle Madonna
Fountain
Fonte di Madonna
Patron Saint
Name of Mary
(Feast Day - 12th September)
Mount
Zarina (a grey mare)
The Lady is one of the Twelve Contrade of Remora. Because of its strong affiliation to the di Chimici family as a result of the Twelfth's allegiance to Giglia, the di Chimici's stronghold, the Lady is highly favoured to win the Stellata.[1] The Lady is in the eastern section of Remora.
Known People of the Lady
Edit
References and Notes
Edit
All the information in the template is from here
Ad blocker interference detected!
Wikia is a free-to-use site that makes money from advertising. We have a modified experience for viewers using ad blockers

Wikia is not accessible if you've made further modifications. Remove the custom ad blocker rule(s) and the page will load as expected.