The Lioness - Leonessa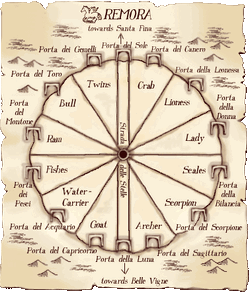 Motto
"Caccio lentamente ma non spesso ho fame" - I hunt slowly but I don't often go hungry
Church
Santa Maria Assunta
Square
Piazza della Liberta
Fountain
Fonte della Grazia
Patron Saint
Maria Assunta 15th August
The Lioness is one of the Twelve Contrade of Remora[1]. The Lioness section is in the north-eastern part of Remora[2].
In Talian legend, it is said that a lioness nursed the twins Remus and Romulus, instead of a she-wolf in Roman myth. As such, the lioness is often depicted with twin children.
Known People of the Lioness
Edit
Notes and References
Edit
All the information from the template is from here
↑

Map of Remora
Ad blocker interference detected!
Wikia is a free-to-use site that makes money from advertising. We have a modified experience for viewers using ad blockers

Wikia is not accessible if you've made further modifications. Remove the custom ad blocker rule(s) and the page will load as expected.