The Ram - Montone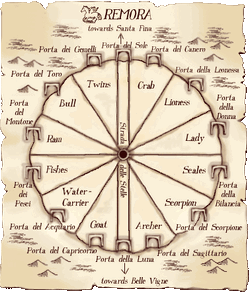 Motto
"Sotto il mio colpa la muraglia crolla" - Under my blow the wall crumbles
Main Street
Via di Montone
Fountain
Fonte di Argento
Patron Saint
Our Lady of Good Counsel
(Feast Day - 26th April)
The Ram is one of the Twelve Contrade of Remora. It is located on the western side of Remora and its adversary is The Fishes.
Before the Stellata of 1578, the Ram had not won any races for over twenty years. Shortly before the race of that year, a winged horse was born in their stables, which was considered good luck. Their losing streak ended in 1578 with Giorgio Gredi as their jockey.
One of their potential horses for the next Stellata is Fiorella[1].
People of the Ram
Edit
Notes and References
Edit
The information in the info box was found here