The Scorpion - Scorpione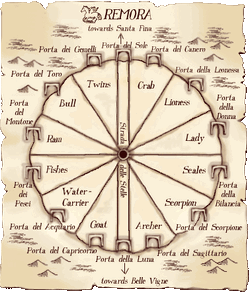 Motto
"Nella mia coda vede la vera natura" - My true nature is in my tail
Main Street
Via Scorpione
Square
Piazza del Fonte Nuova
Patron Saint
John the Baptist
(Feast Day - 24th June)
Mount
Celeste (a blue roan mare)
The Scorpion is one of the Twelve Contrade of Remora. They are one of the three water signs of the Zodiac, and so is allied with the Fishes and the Crab[1]. The Scorpion can be found in the south-eastern section of Remora.
During 1450, they had not won the Stellata in quite some time (not once in the last 50 years), and were nicknamed "Nonna" (grandmother) because of it[2]. They managed to end their losing streak during the Stellata Straordinaria of 1450 with Manoush jockey and his horse.
People of the Scorpion
Edit
Giovanni, current horsemaster
"Razzo" (meaning 'Rocket'), current jockey
Notes and References
Edit
↑ This information along with all in the template are from stravaganza.co.uk
Ad blocker interference detected!
Wikia is a free-to-use site that makes money from advertising. We have a modified experience for viewers using ad blockers

Wikia is not accessible if you've made further modifications. Remove the custom ad blocker rule(s) and the page will load as expected.