The Water-Carrier - Acquario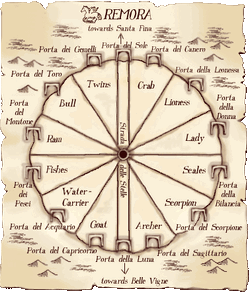 Motto
"Inclino con il vento" - I bend with the wind
Main Street
Via Pellegrina
Fountain
Fonte delle Colonne
Patron Saint
James the Elder
(Feast Day - 25th July)
Mount
Uccello (a piebald gelding)
The Water-Carrier is one of the Twelve Contrade of Remora[1]. The Water-Carrier's section is in the south-western part of Remora.
Known People of the Water-Carrier
Edit
Notes and References
Edit
All the information found in the template was from here
Ad blocker interference detected!
Wikia is a free-to-use site that makes money from advertising. We have a modified experience for viewers using ad blockers

Wikia is not accessible if you've made further modifications. Remove the custom ad blocker rule(s) and the page will load as expected.